Sexy picture prompt provided by May More.
Image originally published as Scandalous and used with permission.
---
Looking at her phone again to make sure she was doing exactly as he has directed, she checked herself in the mirror.  Stockings, check; white school girl button up, unbuttoned and no bra nor panties, check; hair in ponytail, check; wand on chair and ready, check.  Next she is to sit on the chair facing the back, wand under her, sitting on her clit.  She is to edge three times before he gets home and to tell him each time she has edged by text through phone.
So, she begins.  It takes a bit to reach the first one so she starts thinking of Daddy and the possibilities he has planned for her when he gets home.  That gets her to the first edge.  She messages him to let him know.
She starts again after catching her breath.  It doesn't take long at all to reach that second one.  She messages him and lets him know.  Then the last time, for edge number three, it takes longer to get it going.  Her clit and cunt are throbbing and sensitive yet takes a bit to start feeling the tingling and build up.  Finally she reaches that third edge and she gets up from the chair, messages him to let him know and immediately hears him walk in the door.  She removes the wand and places it beside the chair, sits back down facing the back, which is facing the door in their room, with hands in front resting on the seat and puts her head down, looking at the floor.
He opens the door and walks over to her, placing his hand on her head and says, "good girl." He then walks to the walk-in closet, changes his clothes and returns by her side.
"Okay, Kitten, get on the bed, head down ass up," He said.
And so it begins…
See all the other great Masturbation Monday stories!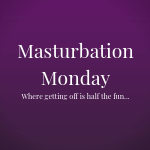 And those on Friday Flash !